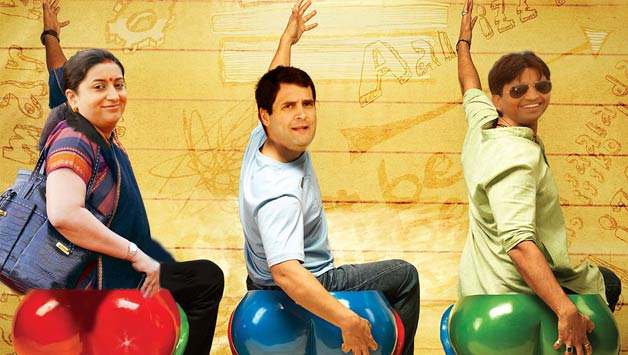 There are some movies that are based on real-life stories, and then there are some whose lives play out to be just like a movie. Here we present to you our very own version of 3 Idiots- with a twist. Contesting from Amethi under different party banners, these three bear absolutely no resemblance to the actual trio from the Bollywood blockbuster based on Chetan Bhagat's novel.
The Congress' unofficial Prime Ministerial candidate Rahul "Baba" Gandhi is pitted against India's favorite Bahu Smriti Irani from the BJP and Kumar Vishwas from the AAP. With such a deadly triangle in place, what we can definitely expect is a volley of words between these three. Whether or not they make any sense is something that we will let you decide once you read the following statements made by them.
For a politician whose father doesn't trust him to win the election against Rahul/Smriti, Kumar Vishwas is one hell of a confident man. With statements slamming his opponents– both professionally and personally- Vishwas has left no stone unturned in trying to cash in on the lukewarm response to Rahul Gandhi's candidature.
Kumar recently played the emotional card by calling Priyanka Vadra his sister and asking her who she would support– him (who was apparently beaten up for demanding justice in the rape cases of Damini and Gudia) or Rahul (who was abroad at the time this happened)? Not to leave his other opponent far behind, he had taken a dig at Smriti Irani by saying that Amethi was quite clear on whether it wanted an Irani or a Pakistani to represent it. It would seem that Vishwas works hard to ensure that he doesn't miss any opportunity to make misogynist and anti-minority comments.
Smriti Irani's rebuttal to Vishwas' jibe has directly attacked the AAP by saying that the contest in Amethi is between the Congress and the BJP, and that there is no third B-grade party involved. She also took a dig at RaGa by saying that in the name of 'the family' the people of Amethi have been denied the fruits of development for a long time.
Rahul Gandhi has surprisingly not made as much of a mess as his opponents; his only statement being one on the state of the roads and public infrastructure. Maybe he has finally sensed the dissent among people after the black flag welcome he was given on his two day visit, or maybe he has conscientiously kept away from making statements as the D-Day nears.
Whatever be the case, the polls in Amethi will be a deciding factor at least for Rahul's future as a Prime Ministerial candidate, and Irani's credibility as his opponent. As for the third monkey, it remains to be seen whether the public is willing to lap up his mud-slinging and misogynistic ways, or whether it truly is a fight between the Congress and the BJP alone.