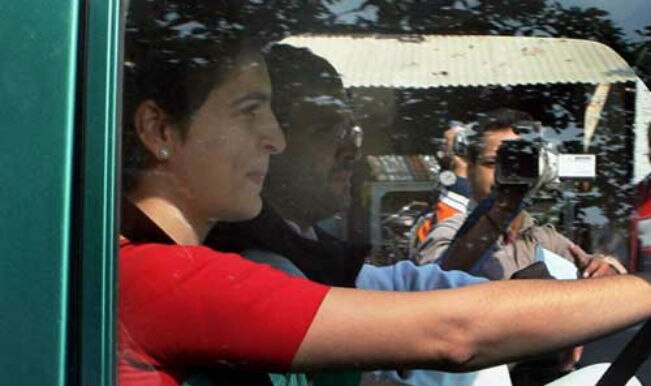 Priyanka takes war room reins
Priyanka Gandhi Vadra has virtually taken control of the Congress's election management as Sonia and Rahul Gandhi are mostly away campaigning, party insiders have told The Telegraph. Priyanka has been spending most of her time in the war room at her brother's home, the sources said, adding that her say was decisive in matters relating to campaign, publicity and media interactions.
Rahul targets both Nitish, Modi in Bihar
Congress vice-president Rahul Gandhi Tuesday attacked both Bihar CM Nitish Kumar and BJP PM candidate Narendra Modi in an apparent bid to woo both Hindu and Muslim voters in one of the few constituencies where the Congress stands a good chance in Bihar. While he attacked Kumar for not opposing Modi after the Gujarat riots, Rahul slammed Modi's "idea of concentrating power in himself".`
Tharoor faces slander and a contest
In front of a flex board describing the initiatives of Shashi Tharoor as MP, a local Congress leader addresses a few dozen people. "There was a tragedy in Tharoor's life," he tells them. "But there is no evidence against him. Communist men, if you have any evidence, you can hand it over to the media or police."
Congress in desperate battle to regain southern Odisha
Even as the Congress remains divided in Odisha, it is striving hard to regain the lost ground in the southern region of the State, its stronghold for several decades till the 2004 election. The region comprises the Nabarangpur, Koraput, Berhampur, Aska and Kandhamal constituencies. Even when an anti-Congress wave swept the country in 1977, the party was able to retain all but Kandhamal.
Congress moves police against BJP MLA
The Rajasthan Congress on Monday lodged a police complaint against BJP MLA Heeralal Regar for allegedly saying AICC leaders Sonia Gandhi and Rahul Gandhi should be "stripped and sent back to Italy."But the Niwai (SC) legislator told The Hindu : "My statement [at a public meting in Tonk last week] has been distorted by my political opponents.
Girish Karnad bats for Congress
A few renowned writers and theatre personalities have come together here to support Congress and campaign against BJP's prime ministerial candidate Narendra Modi.Several well-known Kannada writers including Girish Karnad have openly supported Congress saying it is the only party which can prevent BJP from coming to the power at the Center.