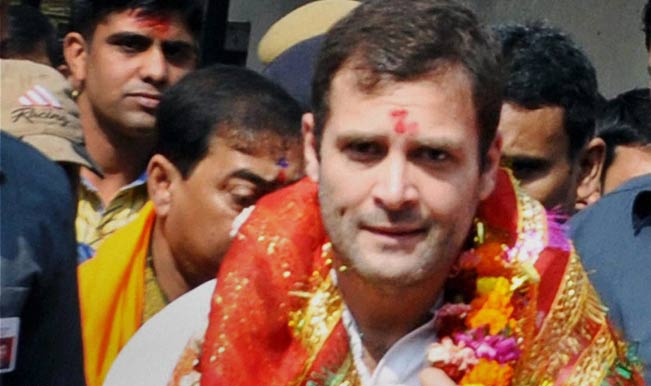 Cong releases clip of Uma Bharti calling Modi "vinash purush"
Stoking a fresh controversy, the Congress Thursday released an old video footage of BJP leader Uma Bharti calling the BJP's PM candidate Narendra Modi a "vinash purush" (agent of destruction), evoking sharp criticism from the saffron party which called the Congress "desperate".
Modi displayed sign of bigotry: Tharoor
Union Minister of State for Human Resource Development Shashi Tharoor said here on Thursday that by refusing to wear a skullcap offered to him at a meeting, the BJP's prime ministerial candidate, Narendra Modi, sent an unmistakable sign of bigotry and rejection of Muslims.
Gandhis take the battle to an ideological plane
The gloves are off. Over the past few days, the three Gandhis of the Congress — Sonia, Rahul and Priyanka — have sharpened their rhetoric against the Bharatiya Janata Party, framing the general election purely in ideological terms, as a battle between pluralism and divisiveness, fraternal love and hatred, as also between the protector of the poor and the promoter of the rich.
Narendra Modi is like Idi Amin, Hitler, Mussolini: Abhishek Singhvi
Congress today put Narendra Modi in the rogue's gallery with the likes of "dictators" Hitler, Mussolini, Idi Amin and Zia Ul Haq."All these dictators were popularly elected but their election did not mean their exoneration from charges of genocide and human rights violations," party spokesman Abhishek Singhvi told reporters, at a time when parties are busy in a high-decibel poll campaign.
The going getting tough, Sonia gets going the telegraph
Staring at defeat, the Grand Old Party is showing some signs of resilience.Sonia Gandhi is marshalling all her resources to keep the Congress in the hunt. She has directed party general secretaries and state unit heads to invite Prime Minister Manmohan Singh to address more public meetings and interact with the media.