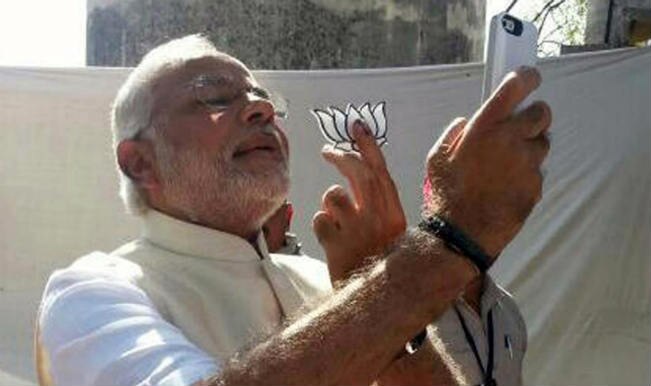 Narendra Modi's selfie-goal: FIRs filed for 'flouting' Election Commission code
BJP prime ministerial candidate Narendra Modi courted trouble on Wednesday as he displayed his party's symbol and delivered a "political speech" outside a polling booth in Ahmedabad after he cast his vote in the morning. Hours later, the Ahmedabad Crime Branch filed an FIR against him on the orders of the Election Commission.
Nitish down, it's between Modi and rising Lalu in Bihar
When Bihar began voting on April 10, the question did not figure on the minds of pollsters. The first two phases featured constituencies where the BJP was expected to do well and Lalu Prasad Yadav and his RJD were not really factors.
Modi asks UPA to come out with report card
While claiming that the foundation for the defeat of the UPA had been set, BJP prime ministerial candidate Narendra Modi on Wednesday lashed out at the UPA for failing to present its report card for the past 10 years.
Harsh on Ma-Beta, Modi mild on Lalu 
Soft on Lalu Prasad, Rabri Devi and their daughter Misa Bharti, Narendra Modi today went hard after "Ma-Beta (Sonia and Rahul Gandhi)" in his election speeches in the state."All of you have seen Ma-Beta addressing election rallies at several places in Bihar. Did you find Ma-Beta ever sharing dais with Laluji?" the BJP prime ministerial candidate asked.
BJP notice to Congress for linking Narendra Modi to hawala accused
BJP has sent a legal notice to the secretary of the Indian National Congress, Union Minister Kapil Sibal and party spokesperson Randeep Surjewala, reacting to allegations regarding BJP prime ministerial candidate Narendra Modi's proximity to alleged hawala operator Afroz Fatta.