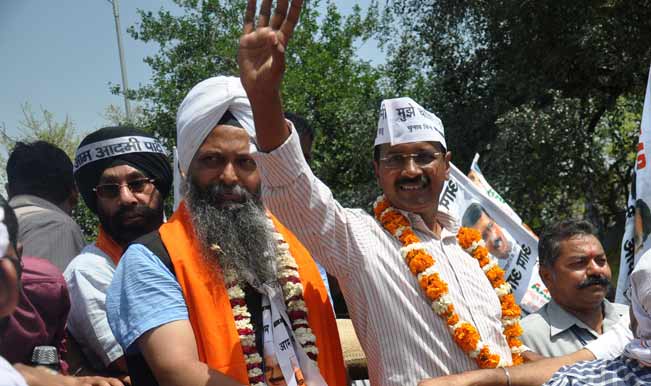 AAP urges EC to deploy Central forces and observers in Varanasi
The Aam Aadmi Party on Friday urged the Election Commission to order deployment of central security forces in Varanasi in Uttar Pradesh to ensure "free and fair" elections.In a high-profile contest for Varanasi, AAP convener Arvind Kejriwal is taking on the BJP's prime ministerial candidate Narendra Modi and Ajai Rai of the Congress.
In Punjab, AAP makes inroads in hinterland
Till a month back, the Aam Aadmi Party (AAP) was not much of a political entity in Punjab. But that is no longer the story. Thanks to some of its candidates, the party is covering ground—even in Punjab's rural areas.While the ruling Shiromani Akali Dal-Bharatiya Janata Party combine want to ride on the "Modi wave" and the Congress is adamant that it will beat the anti-Congress mood of the electorate, it is the AAP which is taking baby steps on Punjab's political frontline despite not having a full-fledged organisational structure in the state.
Ruling SAD-BJP failed to eliminate drug meance: AAP
Senior Aam Aadmi Party (AAP) leader Yogendra Yadav today accused SAD-BJP government of failing to protect youth from drugs and allowing sand mafia to flourish in the state.
Agra's betting bazaar places AAP at third place
After months of high voltage election campaign, peace has descended here and the talk in the betting bazaar hints at the Aam Aadmi Party emerging a close third, denting the poll prospects of strong contenders.
Aam Aadmi Party makes three-cornered contest for 8 Punjab seats
Giving a scare to both the Akali-BJP combine and the Congress in Punjab, the Aam Aadmi Party (AAP) has made the Lok Sabha elections a triangular contest in at least eight of the 13 constituencies in the state.