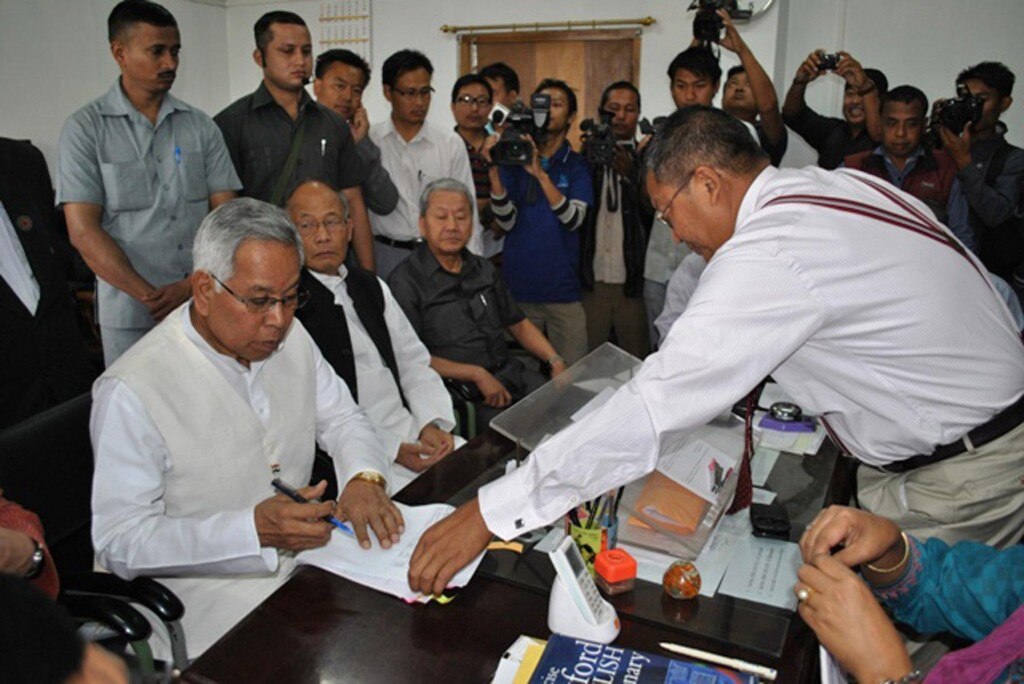 Imphal, Apr 22: The people of Manipur, once ravaged by insurgency and still suffering from its residual strains, came out in full force to vote during the 16th Lok Sabha election as they want a government that betters educational and employment opportunities in the state and focuses on development. Manipur has two parliamentary constituencies.
Around 74 percent of the 874,000 voters cast their ballots April 17 in the Inner Manipur constituency and going by the locals, incumbent MP Thokchom Meinya Singh of the Congress, who has represented the seat for a second consecutive term, may not be returned. He is facing a serious threat from Communist Part of India's (CPI) Moirangthem Nara Singh, say the locals.
"Meinya Singh has been in office for long, but there is hardly any development here. We still face problems like shortage of electricity and water, poor quality of government schools and lack of employment opportunities. People have to spend a lot to make their children literate as private schools are expensive.
"Many people think that Nara Singh can bring about changes here for good. He is a good person and knows how to socialise with people," 68-year-old homemaker Hijam Binodini Devi told IANS.
Binodini will be happy if the only woman candidate, Indira Oinam, wins but doesn't think she will.
"She doesn't really stand a chance but if she wins she will make history. R.K. Ranjan Singh of the BJP is another strong contender but the masses are not happy with the party workers," she said.
Lourembam Kulavanta Singh, a father of two teenagers, also wanted a leader who can make the state prosper.
"Government schools are recognised and teachers are also qualified, but as a parent I prefer to send my children to private schools as they are able to perform better. It is expensive for me. The minimum that a parent has to spend on education is Rs.50,000 per year. It includes school and private tuition fees," he said adding that the expense takes a toll on the home budget.
"I want education in government schools to be improved and want corruption to end as it gets very difficult to get jobs here. Only those who have money can get jobs," he said.
Manipur's literacy rate is 79.21 percent, but many are jobless.
"I want Manipur to be corruption free. This way qualified people will get jobs," said Wahengbam Premjeet Singh, a computer science graduate who gives private tuitions to schoolchildren to earn a living.
He felt that like previous elections, this time too the Congress will be victorious as the "party is big".
Young graduate Kulavanta shared similar sentiments.
"In big cities like Delhi and Mumbai, when people say that they don't like a particular candidate they make sure not to vote for them. In Manipur, that's not the case. People don't like the Congress party but still they vote for them for unknown reasons," he said.
While education and employment remain the main concern of the masses here, there are other issues that need to be tackled too by the elected representatives.
"We want to see a new MP who takes care of our needs. The National Highway is in a bad shape. If it rains, it can't be used and due to this, the price of food items and other products go up.
"In Manipur, strikes are common. Those who work in government offices find it difficult to commute during such times as private vehicles don't run and government ones are extremely less in number," said government official Lourembam Devikarani.
Lokendra Singh, general secretary of the Scheduled Tribes Demand Committee of Manipur, said the Armed Forces (Special Powers) Act is also a major issue.
"The Congress has been ruling for long now and people are not happy with AFSPA. There are a lot of people who want to do away with it. One can see a lot of supporters of Nara Singh as he is an amiable gentleman, apart from other qualities. There are many people against the Congress as not much has been done to improve conditions but he did one good thing for us.
"Meinya had led the ST Demand Committee team and met Prime Minister Manmohan Singh on July 10, 2013. The prime minister was positive and assured the team that the government will do the needful," said Lokendra Singh, the driving force of the Committee, which wants Meiteis to be included in the list of scheduled tribes.
If the Inner Manipur constituency seemed mostly in favour of Nara Singh, voters in the Outer Manipur (reserved) constituency, where polling was held on April 9, seem to be inclined towards the Congress, a quick survey showed.
Some 78 percent of the 911,000 voters had turned up on voting day.
The Congress had re-nominated incumbent Thangso Baite while the BJP has fielded Gangmumei Kamei, the Trinamool Congress Kim Gangte and the Nationalist Congress Party Chungkhokai Doungel.
The 10-phased general elections began April 7 and will conclude May 12. The results will be declared May 16.