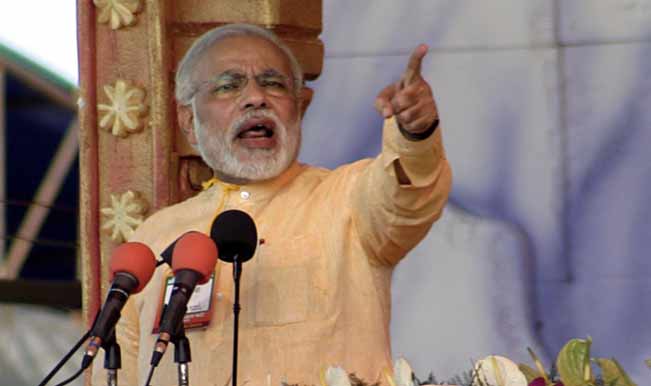 By Vinay Vishnu
Narendra Modi recently held his second rally in four months in Jammu and Kashmir. All eyes were on him as his speech at the rally would give an insight into the possible foreign and defence policy he may adopt if he comes to power. Throughout the rally, he spoke of Kashmiriyat, Insaniyat and Zamooriyat, and stressed on Atal Bihari Vajpayee's determination to solve the issue of Kashmir through bilateral talks. This strategy is well timed as we have very recently seen political parties like the PDP and the moderate separatist Huriyat Conference, led by Mirwaiz Umar Farooq, come out and praise Vajpayee's Kashmir policy. Modi's emphasis on Vajpayee's Kashmir policy, and his tacit declaration of taking that policy forward under his administration, has allayed the fears of pro-Kashmir factions within the valley who were wary of a Modi government coming to power.
This was the first of the 185 Bharat Vijay rallies Narendra Modi will attend to chalk out his vision for India's future, and send a strong message to the entire country. The venue of his rally was carefully chosen; Hiranagar in Kathua district, in the Udhampur-Doda Lok Sabha constituency, is kilometres away from international border. This was the place where last year, on 26 September, an army officer and 11 army personnel and civilians were killed in a terrorist attack. It was thus an apt place for Modi to speak against cross border terrorism. Criticizing the Centre for taking no action when two Army Jawans were beheaded, he came out strongly against the Defence Minister AK Antony. He also made a scathing remark against his main opponent in Varanasi, saying that India's problems are the three AKs: AK47, AK Antony, and Arvind Kejriwal.
He pitched for inclusive development in J&K, saying that education, employment and infrastructure are the needs of the hour in the state, and that people are disillusioned with the Central and the State Governments for doing nothing in this area. When people are satisfied with governance, and when they feel that they are being taken seriously, they will shed their separatist attitude and will embrace being Indian.
The first and most important task at hand for Modi would be to gain the trust of the people of J&K by giving them ample opportunities to succeed in their lives. It is important to focus on health, education, employment, industries, and tourism. Modi also pointed out the importance of bringing the state under the Lokpal Bill, which the present Government at the Centre is unwilling to do. Secondly, the issue of India's policy towards China and Pakistan needs to be comprehensively chalked out, taking into consideration the changed situation post-26/11. Dr Subramanian Swamy, with his prior experience in dealing with China, would be immensely useful in drafting this new policy.
In his speech Modi not only reached out to civilians but he also tried to woo the soldiers by taking up the issue of the right of soldiers to vote. It is important to note that the Supreme Court recently issued a judgment in which it clearly stated that soldiers posted in non-conflict areas should be allowed to vote. No other politician has spoken on this issue with such clarity, indicating that Modi is clearly on the path of constructive politics, unlike the present government.
After his rally in J&K, Modi would be attending his second rally in Naxal affected Jharkhand were we may glimpse his vision on tackling Naxalism. With the Hiranagar rally Modi has opened the debate on India's foreign and defence policy, and it is now for the Congress and their allies to put forward their vision in this policy area. Rahul Gandhi should perhaps break his silence and address important national issues like foreign and defence policy, instead of making remarks on the RSS. It is interesting to note that the Congress party's election manifesto steers clear from dealing with the issue of the Kashmir Valley and terrorism. However, it would be wiser on our part to wait till the BJP issues its own manifesto, so that we have a concrete and clear picture of their intensions in the Valley.
The author, Vinay Vishnu, tweets at @vaa3