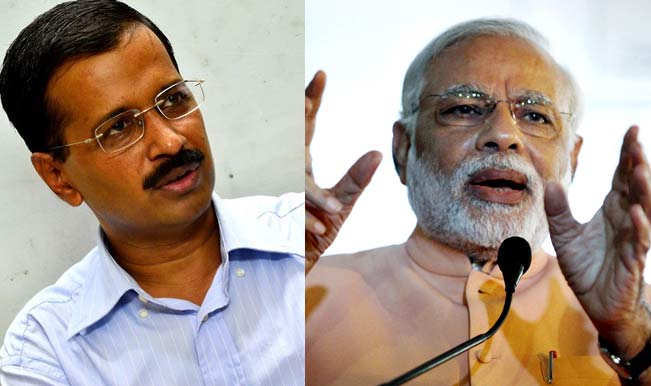 It all started with 'Shahzada', then 'Jayanti-Tax' and now its 'AK-49′ , looks like Mr. Modi is quite smart in giving references while campaigning for his party. Along with promoting his exemplary Gujarat growth model and his vision for the gen-next, he has been continuously targeting the so-called first-family of India, particularly Rahul Gandhi. But his rally last week after his visit to shrine of Vaishno Devi, saw a new entrant to the list of Modi. It was none other than Aam Aadmi Party leader Arvind Kejriwal, who was referred to as AK-49. Modi also included AK Antony into it, blaming both the AKs to be the Pakistani agents. Now one thing which is really noticeable is that Narendra Modi has always maintained this consistency of targeting individuals, particularly his potential competitors and opponents.
Whoever has been projected to be trending parallel to him has to face the arrows of words that too in his own rhythmic style and Modi seems to be the king of words for sure who effortlessly, can take a dig at his enemy when it is his show.
Not only Narendra Modi, few days back a Congress candidate from Saharanpur UP, went to the extent of threatening Modi and chopping him off into pieces if he even thought of turning Saharanpur into Gujarat. Controversy started and the leaders of all parties again got something new to attack each other.
Whatever the issue may be, no party is in any mood to play it cool. Perhaps they have concluded that being derogatory/offensive is the only means to gain fame and votes. We can't ignore however, what senior Congress leader and Central Minister Salman Khurshid said for Narendra Modi which enraged BJP to a great extent.
AAP Supremo Arvind Kejriwal joining the mainstream game called Modi the agent of Ambanis and Adani's. Later, he included Congress leaders too in the list of crooks, of course not giving any evidence. He goes on and on in his speeches claiming himself to be the lone savior of the nation.
Now the question here is how relevant is it to target individuals always? Be it Congress, BJP or AAP, once the trumpet of elections blew, they had already started passing derogatory remarks or personal attacks.
True, they also talk of development and other things but what they never miss from stage is targeting the selected individuals to tarnish their image to the possible extent. Its really unfortunate that the leaders still think that public sees only what they want to show them. Why do politicians forget that this is 2014 now and even the literacy rate of the country has gone well high. The maximum voters can judge what they are listening to and decide whether the leaders are doing it for the audience or not, and who after-all is interested in the cat-fight? Their party workers can tolerate it for sure but not a common man.
The time has come when rather than pinching and poking each other, the leaders of the largest democracy should act with maturity and the final judgement should be left over the people.
Keeping your own agenda and providing information about the ill practices of the incumbent government is acceptable and the opposition is entitled to do that but it takes an ugly turn when it comes to individuals and that too very personal. However, there is code of conduct and a limit to attack anybody in person. This can be avoided also and it would look better, sound better and do better if elections are contested among parties and not individuals, on issues and not useless game of putting blames.