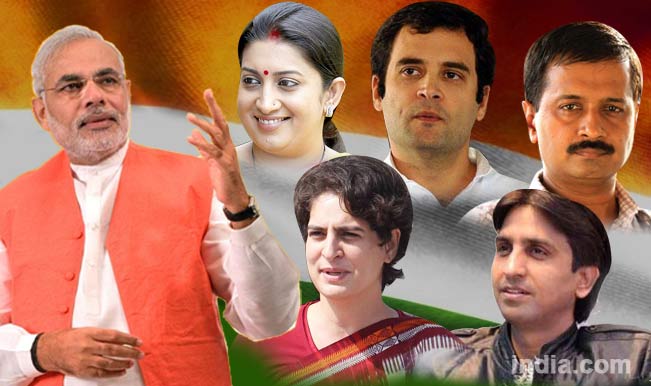 The high voltage political drama in Amethi will reach its peak on Monday with BJP's prime ministerial candidate Narendra Modi visiting what essentially has been a Congress bastion over the years. BJP has fielded Smriti Irani while Arvind Kejriwal's Aam Aadmi Party (AAP) has fielded Kumar Vishwas against Congress vice president Rahul Gandhi. In short the high-profile seat of Amethi will witness a serious competition this time around.
Seven phases of the the Lok Sabha Elections 2014 have been completed, but the most interesting electoral wars have not. The battle for the eighth phase is gaining heat as the political big weights are giving their all in the last two phases. Kumar Vishwas was the first moved challenging Gandhi's at their home turf. Smriti Irani let Vishwas hog the limelight in the early days but picked up her campaign with direct attacks on Gandhi and later his sister Priyanka Vadra.
The three-way fight has given the election a twist.
1. A strong reply to Kejriwal
Aam Aadmi Party chief Arvind Kejriwal was taunting BJP for not putting a strong fight in Amethi. BJP fielded Irani and Narendra Modi's rally on the last of the campaigning for eighth phase sure makes it a close contest.
2. BJP has never won any seat of these 15 seats
The trivia lover would love to know that the BJP has never been able to win any seat of these 15 seats which go to polls on Wednesday. It'll be interesting to see if NaMo wave can beat this trend.
3. Big boost for Smriti Irani
The top brass of the BJP have been campaigning in Amethi since last few weeks. Manohar Parrikar, former Army chief General VK Singh, Kalyan Singh and Manoj Tewari are few of the prominent faces which have campaigned for Irani in Amethi. The Narendra Modi rally will surely be a icing on the cake for Smriti.
4. Huge dent to Kumar Vishwas
Kumar Vishwas who had gained an early advantage by landing here months back, now faces a tough competition just two days before the polling. It'll be interesting to see how AAP party responds to it. The NaMo rally is surely going to make a dent to Vishwas' hard work.
5. (Serious) Worrying sign for Rahul Gandhi
With Gandhi being virtually perished from the talks, it is a worrying sign for the Congress' prince to carve out a win from this battle. With all the talks of Irani and Vishwas taking over Amethi, Rahul Gandhi has been banking on the 'parampara' and the 'loyal-connect' factor.
The polling happens on 7th May, Wednesday. The big fight is on and it will be the people of Amethi who will decide the fate of high profile candidates. Will this rally of Narendra Modi be fruitful for Smriti Irani? Will Vishwas' work bear fruits? Or will Gandhi walk away the this time too?