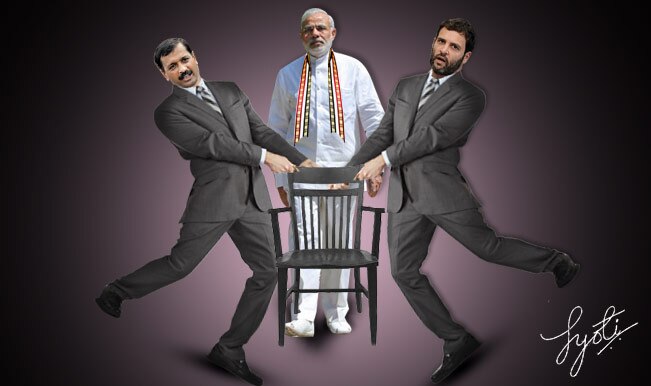 The tedious 9-phased polling of the Lok Sabha Elections 2014 has finally come to an end and the results will be out on May 16. The exits polls are favouring BJP and its prime ministerial candidate Narendra Modi. The saffron party has found favours with the market and it will be interesting to see which political party the people want to assume office for five years.
For Live updates on Exit Poll results click here.
India has never witnessed such interest of all the sections of society in previous elections. The record voters turn out shows the real picture. With approx. 7-10% increase in the total voters turn-out, there sure seems a mood of change or in other words, determination to choose a strong stable government.
Bihar which has 40 Lok Sabha constituencies has been one of the centre point of discussion this elections. With Sharad Yadav's Janata Dal (United) split with Bharatiya Janata Party (BJP) raised many eye brows.
Bihar Exit Poll Results
| | | | | |
| --- | --- | --- | --- | --- |
| STATE | NDA+ | UPA+ | JDU | TOTAL |
| BIHAR | 28 | 2 | 10 | 40 |
In 2009, the NDA (JDU+BJP) alliance bagged 32 seats out of 40 seats with each bagging 20 seats and 12 seats respectively. The UPA (INC + RJD) shared 6 seats between them with RJD bagging 4 seats while INC bagged 2 seats. The two seats were won by Independent candidates.
The picture of 2014 shows a different picture. After the infamous split of JD (U) from the NDA after their alliance of 17 years; it was assumed that both the BJP and JDU would fight independently. The NDA got a timely LJP boost before the election began and on the other side, the INC-RJD drama worsened their condition.
According to the Times Now exit poll, BJP is slated to sweep Bihar with 28 states while the estranged partner JD (U) is expected to win 10 seats. The UPA alliance has almost perished from the state with both slated to win the remaining two seats.
If we go by the exit polls, it's a big jolt to Nitish Kumar and his prime ministerial prospects. Moreover, it's clear that the 'MODI Wave' has swept away the Congress and RJD from the state.
In Maharashtra the saffron combine will bag 32 of the 48 seats while the ruling NCP-Congress combine will take 15 seats. Arvind Kejriwal's Aam Aadmi Party gets 1 seat, according to ABP- News survey.
| | | | | |
| --- | --- | --- | --- | --- |
| STATE | NDA+ | UPA+ | AAP | TOTAL |
| MAHARASHTRA | 32 | 15 | 1 | 48 |
For poll survey results done before the elections click here.