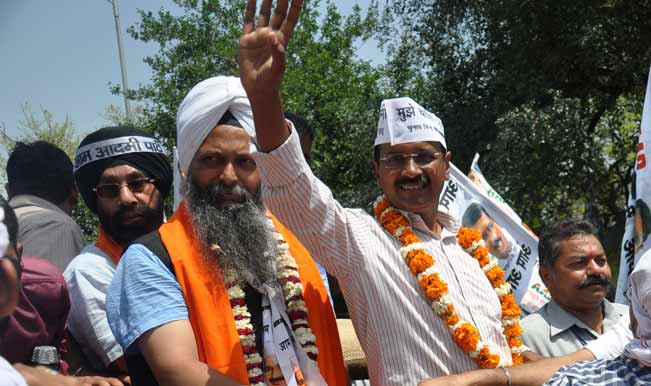 New Delhi, Apr 8: Former Delhi chief minister and Aam Aadmi Party (AAP) chief Arvind Kejriwal was slapped again in Delhi while campaigning for the April 10 Lok Sabha polls. Kejriwal was taking part in a roadshow as part of campaign for AAP candidate Rakhi Birla who is contesting from Delhi North-West Lok Sabha constituency.  The attack, which took place in Sultanpuri, left Kejriwal with a swollen eye. AAP workers roughed up the attacker before handing him over to police.
In a similar incident on April 4 a 19-year-old man twice punched the AAP leader while pretending to garland him as the latter campaigned for the Lok Sabha election. Kejriwal was with his party's South Delhi Lok Sabha candidate Devendra Sherawat and three legislators when the attack took place in south Delhi's Dakshinpuri area.
The former Delhi chief minister urged his supporters not to retaliate violently. In less than a month, Kejriwal has been targeted four times, including in Gujarat, Haryana and Varanasi in Uttar Pradesh.