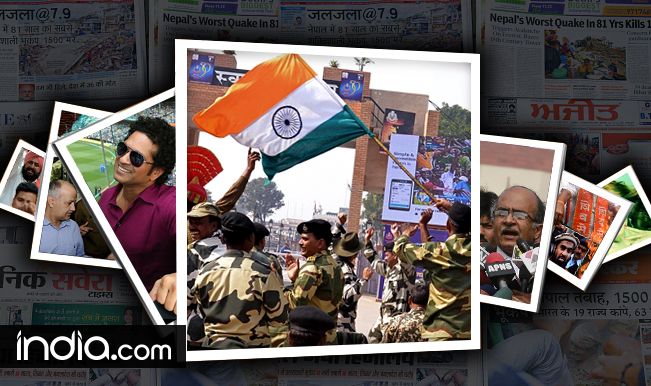 Video produced by Oijo
Priya Dutt, 47, was heading her father Sunil Dutt's core team when he was Cabinet Minister for Youth Affairs and Sports, but she first stood for the Lok Sabha after he passed away in 2005. She won as an MP from the Mumbai North-West constituency and is currently an MP from the Mumbai North-Central constituency and an AICC Secretary. Her key areas of interest have been education, health, womens' empowerment, youth affairs, infrastructural development and communal harmony. She is seeking re-election from her constituency in the on-going elections
Excerpts:
I was in a huge dilemma and I think, for the right reasons. I was four months pregnant at the time when my father passed away. People were asking now who's going to be taking on this legacy and no way did I think about myself.
There were so many people around who had worked with my father, who were much senior to me, who kind of wanted to dictate how I should be doing things.  They would say, "Oh! Your father would have done it like this." And I realized this is going to be really, really hard for me.
There's no space for anything in Mumbai so to develop an infrastructure in a situation like this is a difficult task. Because every time that you want to build a road or you want to build a flyover or you want to build a ROB or a FOB, you have to look at displacing people. And when you are displacing people, it's always difficult unless you strike a balance.
I try and ensure that we don't have more illegal slums but for that the BMC has to be very strong. That becomes the biggest issue. In places like Behrampada and Garib Nagar where people build verticles which are completely illegal. They rent out the spaces above and live off that. But I think the government stand is extremely clear— that when you rehabilitate it'll be only the legal persons living there for 30 years, 40 years, will be rehabilitated.
People think, Members of Parliament have huge funds but our funds are really miniscule compared to the funds your local MLA gets for his one area.
The issue which came up recently, is that again we need to reduce the tariff for electricity. But Reliance is a private entity, so the government does not have the power to dictate to them to bring down the prices.
Where prostitution is concerned I have very different because I've worked with them in Kamathipura. I personally do feel that legalization is a solution because we can hide it as much as we want, but we know it exists and it always will. You have criminalised prostitution and you are criminalising the prostitute with for no fault of hers.
The state government in Maharashtra has come up with this really good policy for health in general, which is the Rajiv Gandhi Jeevandayee (Arogya) Yojana. It's like a health insurance policy where anyone who is below poverty line can go into even a private hospital for treatment up to one and a half lakhs. It covers a whole lot of things, from heart to kidney, to cancer, to everything. So that's a huge boon. Now we need to create awareness about this.
I think Congress is more than ready for changes. There's a lot of hope and excitement to see changes happening.