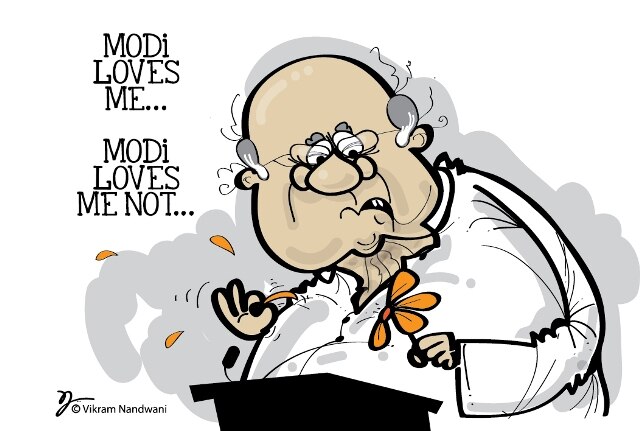 In a rally at Ghanswangi in Maharashtra, the NCP supremo Sharad Pawar made a disparaging remark against BJP's Prime Ministerial Candidate, Narendra Modi saying that he should undergo treatment at a mental hospital for talking "rubbish".  He also expressed his angst at the prospect of a mass murderer at the helm of India's prime executive post, saying that Modi was a man shorn of any emotions as he never bothered to visit the victims of the 2002 riots or express sympathy with them.
Sharad Power is a man who hardly needs any introduction. He is known to have gone overboard with expressing his hostility. Perhaps, in this respect, it could be said that his reputation precedes him.  He has always had something on his mind and he is known in all the circles as being a rather ambitious politician. However, the way it's going from bad to worse for the UPA alliance, there is every likelihood that his seething resentment and anger towards Modi would spill-over. It is important this issue in context here. He has been known earlier for chiding Modi on his poor sense of history and for how the latter's state administration filed an FIR for diverting the feed stock that it had earlier extended to Maharashtra to cope with the drought, thus clearly demonstrating the narrow-mindedness of the Gujarat government.
He followed that with an irksome comment as to how Narendra Modi was in a rush to grab the Prime Minister's post and how it was unprecedented for a party to announce its candidate in advance in India's history of representative democracy.
All this perhaps stems from a deep sense of disillusionment he has had with his bid for the post of the prime minister. Sushil Kumar Shinde in early January commented how Pawar would have become one as back as 1992, but since there were certain elements within Congress who decided otherwise, he could not meet the destiny that he had fashioned for himself. Perhaps it is also because his sway over Maharashtra politics is now seen to be on the decline. He is no longer hailed by the local media as the 'Maratha Strongman' nor does his health favour him. A surgery for mouth cancer has left his jaw contorted indefinitely. With the onset of the general elections, he was quick to persuade his partymen to nominate state PWD minister Chagan Bhujbal as his replacement in the Lok Sabha. He has staged an unrequited exit from the lower house and has ever since not looked back. Perhaps it is this very disenchantment borne over his repeated failures that he has now focused his attention on taking up the post of the President and to that extent destiny smiled on him and allowed him to get elected to the Rajya Sabha unopposed.
Persistent charges of corruption, especially during the Lokpal uproar have stuck and his integrity as an upstanding public servant has taken a beating. Moreover, in his entire political career, he has changed his allegiances at the throw of hat, and this has added further to his ignominy as he no longer enjoys the trust of the many. He is known to have opportunistically move camps as and when a favourable situation has presented itself. All manner of backroom deals have rid him of any modicum of credibility that was left in him.
His most visceral blow of bitterness came when Rahul Gandhi was elevated to the second-in-command in the Congress. Thinking that all his years of loyalty and political acumen would have gone in his favour, Pawar was visibly hurt by the Gandhi scion's aggressive posturing.  History has a way of repeating himself and Pawar is seen to be the proverbial "Jyeshthaputra Karna" as he had earlier broken from party ranks and formed the party with Tariq Anqar and PA Sangma in 1999 due to a conflict of opinion over Sonia Gandhi's foreign origin.
Beset by a fear of losing his grip on reality, Pawar today is riddled with insecurity as he cannot even trust his own nephew, Ajit Pawar or daughter, Supriya Sule to take over the reins of NCP's leadership. Questions have been raised over his leadership capacity within party circles due to his fledgling health.
His increasing isolation, as has been mentioned before, added to his disaffection with party politics and any prospects he may have had this time around, has been permanently marred by the string of corruption scandals and realignments that have been the highlight of his public life.
He also knows for a fact that his strategy of keeping his options open and keeping observers guessing with his unpredictability has lost its novelty. Perhaps, which is why, one can surmise that he has gone all-out against Modi with his brazen attacks as his last swan song before he makes his final grand departure from competitive politics.
He has made more foes than friends. No Congress leader, leave alone any of his domestic allies in Maharashtra are ready to bet on him. His repeated overtures to the BJP every now and then, especially his muted silence on Modi's complicity in the Gujarat riots has irked most members in the rank and file of allies.
The charges of complicity in the corruption scams against Pawar is not going to fade away soon, and he knows it. Until that time, Pawar will continue to come out with all guns blazing against the only adversary that he deems worthy of a contest.