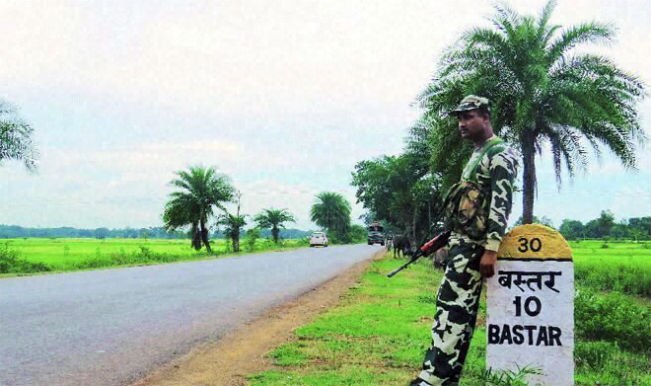 New Delhi, Apr 10: Security forces today cancelled the return of an about 20-member poll team as Naxals launched heavy firing on a polling station in Chhattisgarh's Sukma district even as violence remains under control across Left Wing Extremism-hit areas. (Read: Millions vote in critical third phase of Lok Sabha Election)
CRPF chief Dilip Trivedi said a strong contingent of the paramilitary force is guarding the poll officials and they will return tomorrow morning as night evacuation could be risky.
"The forces will bring them out tomorrow. They are safe and they will spend the night at the location. Their withdrawl has been cancelled due to heavy firing by Naxals," Trivedi told PTI as he declined to give out the whereabouts of the standoff in view of security concerns.
Official said there were enough intelligence to suggest that Naxals would ambush the poll team during its return.
The CRPF chief, who is incharge for deployment of all security forces during the elections process, said conclusion of polls in the "most difficult" areas gives him a sense of relief but not without the grief of losing his men who laid down their lives in the line of duty.
"We are satisfied because the most difficult phase of the polls has got over without any major incident or obstruction.
At the same time, we are sad because in this phase we lost five of our men while 12 were injured. Hats off to all my men and other forces personnel for accomplishing the task," he said as he reviewed the day's developments with his senior officials and field commanders at the force headquarters here.
"We had requested the Election Commission (EC)", Trivedi said, "to take up these "most difficult" areas for polls in the begining so that our men are fresh and fully prepared".
"We are thankful to the EC for agreeing to the proposal.
The challenge now remains to get these men out and position them for the next phase of polls in various Maoist-affected areas," he said. Trivedi said that during the last two days, the forces were able to neutralise all destructive Naxal plans and even killed 7-8 Maoists in encounters.
"A number of recoveries of arms, ammunition and improvised bombs were made and anti-Naxal operations were on all the time. All these strategies have proved to be successful," he said.
A number of Naxal-hit seats of Bihar, Odisha, Maharashtra, Jharkhand and Chhattisgarh went to poll today and there were no largescale attacks or violence except in Bihar where two CRPF personnel were killed while in other states incidents of firing and landmine recoveries took place.
In Chhattisgarh, a state police official was injured in a Naxal attack while a number of homemade bombs were recovered in Kondagaon district of the state.
A contingent of security forces will move towards the new areas where polling is scheduled on April 12, 17 and 24.