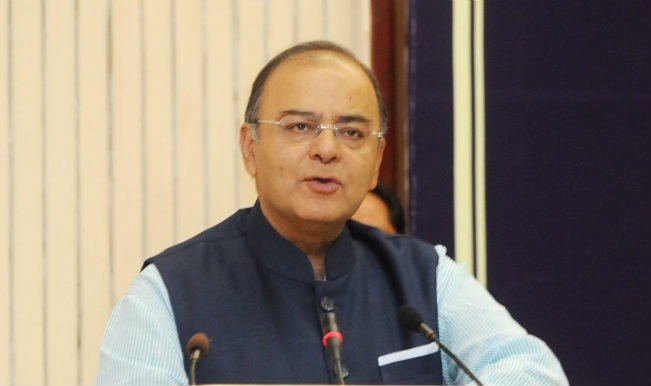 Finance Minister Arun Jaitley in his maiden Union Budget announced steps to strengthen investor confidence, improve fiscal situation and boost growth. All the sectoral indices, led by realty, power and metal sectors, were trading in the green on emergence of buying driven by budgetary proposals.
The 30-share benchmark Sensex was trading higher by 434.23 points, or 1.71 per cent, at 25,879.04. Intra-day, the index has swung nearly 665 points as investors resorted to alternative bouts of buying and selling. The broad-based National Stock Exchange index Nifty regained 7,700 point mark by surging 125.15 points, or 1.65 per cent to 7,710.15 point after shuttling between 7,713.45 and 7,479.05.
1: 14 pm Arun Jaitley announces that sports equipment to be cheaper.
1:12 pm Packaged foods to cost lesser, Radio taxis to cost more, online advertisements to cost more: Arun Jaitley
1: 07 pm Cigarettes to cost more along with an increase in prices of tobacco products. Aerated drinks to cost more, Pan Masala , Gutkha to cost more. Footwear below Rs 1000 to cost less: Arun Jaitley
1:02 pm Arun Jaitley announces that semi processed and half cut, polish, gemstones, diamonds will attract a custom duty of 2.5%. Solar power units and steel to be cheaper, 10 per cent custom duty in telecom products. Duty on retail footwear reduced, to be cheaper.
12: 59 pm Computers, TV sets to be cheaper, LED/LCDs to be cheaper, CRT TVs will be cheaper: Arun Jaitley
12: 57 pm Arun Jaitley announces 60 more 'Ayakar Sewa Kendras' to be set up.
12:55 pm Plastic products, soap to be cheaper. 10 to 2.5% custom duty on petrochemicals, imported gadgets to cost more: Arun Jaitley
12:49 pm Incentive of 15% for investments above Rs 25 crore: Arun Jaitley
12: 46 pm Exemption for self-occupied homes raised to Rs 2 lakh. ATC investment limit increased from 1 lakh to 1.5 lakh. Housing loan rebate hiked from Rs 1.5 lakh to Rs 2 lakh: Arun Jaitley
12: 44 pm Tax exemption for all increased for Rs 2 lakh to 2.5 lakh and for Senior Citizens, from Rs 3 lakh to Rs 3.5 lakh. No change in tax slabs or rates or surcharge. Education cess of 3 per cent to continue as it is: Arun Jaitley
12:40 pm Allotment of Rs 150 crore for improving connectivity with Andaman and Nicobar Islands. Allotment of Rs 100 crore for Himalayan studies in Uttarakhand: Arun Jaitley
12: 36 pm New 24×7 channel Arun Pravah to be launched. Allotment of Rs 1,000 crore for North Eastern connectivity. Allotment of Rs 100 crore for training of athletes for CWG and Asian Games: Arun Jaitley
12: 34 pm Mars Orbital Program set for September 24 will be launched. Government to set up Sports Management academy across India to nourish talent. Sports University in Manipur as the state has done well in sports. Allotment of Rs 200 crore to upgrade indoor/outdoor sporting activities: Arun Jaitley
12: 32 pm Rs 3000 crore for state police reforms and modernization. Rs 100 crore for ghat developments and Rs 2,037 crore for Ganga cleaning: Arun Jaitley
12: 24 pm Need for modernisation of arms and increased capital outlay of defence by Rs 5000 crore including Rs 1000 crore of development of railway in borders areas. Allotment of Rs 990 crore for socio economic centres in villages across borders. Allotment of Rs 5 tourist circuits to be introduced with an investment of Rs 500 crore. National heritage development and augmentation to be launched to preserve heritage character Mathura, Amritsar, Gaya, Ajmer and Kanchipuram for whoch Rs 500 crore has been allocated: Arun Jaitley
12:14 pm Government to set up 6 debt tribunals, PPF investment cap enhanced to Rs 1.5 lakh from Rs 1 lakh. Defence budget allocation increased by Rs 5,000 crore in addition to the proposed interim budget: Arun Jaitley
12:20 pm For household banking facilities, a nation-wide program will commence on 15th August, 2014 which allows 2 bank accounts in all households are to be proposed in every sector. One single demat account for all transactions along with long term loans to infra sectors: Arun Jaitley
12: 18 pm Uniform KYC reforms across the financial sector: Arun Jaitley
12:15 pm Deen Dayal Upadhaya Gram Jyoti Yojana to be launched to augment power supply in rural areas. Renewable energy projects to be set up in Rajasthan which has allocation of Rs 500 crore. National multi-scale programme 'Skill India' to be introduced to provide training and support for employment: Arun Jaitley
12:12 pm New airports to be developed through PPP route. Adequate coal to be given to thermal power plants. Arun Jaitley proposes scheme for development of airports in Tier II and Tier III cities.
12:10 pm Allocation of Rs 400 crore for efficient water pumps, Govt proposes to set up 100 smart cities. Govt to provide Rs 7,060 crore for development of such cities: Arun Jaitley
12:08 pm Allotment for 16 new port projects and Rs 11,675 crore for harbour projects and SEZs will be developed for port connectivity: Arun Jaitley
12:05 pm Allotment of Rs 10,000 crore to attract private sectors and to facilitate new start-up companies. Trade felicitation centre of Rs 50 crore to promote handloom products. Allotment of Rs 500 crore for farm price stabilization fund: Arun Jaitley
12:02 pm National industrial corridor being set up in Pune, Long term agriculture credit fund through NABARD allotted Rs 5000 crore. Short term agriculture credit fund through NABARD allotted Rs 5000 crore and Rs 100 crore for national industrial corridor: Arun Jaitley
11: 58 am Allotment of Rs 5000 crore for warehousing and STRC food fund is allotted Rs 5000 crore. Kisaan TV to be introduced this year to facilitate education of farmers: Arun Jaitley
11: 55 am A target of Rs 8 lakh crore for agricultural credit, farmers will get 3% incentive for timely repayment: Arun Jaitley
11: 54 am We will bring technology driven second green revolution to focus on higher reproductivity, Rs 500 crore for price stabilisation fund central government will work with state government to provide establishment of private markets. Allotment of Rs 50 crore of development of indigenous cattle breeding: Arun Jaitley
11: 51 am National Adaption Fund for climate change allotted Rs 100 crore: Arun Jaitley
11: 43 am Allotment of Rs 100 crore for modernization of madarasas: Arun Jaitley
11: 41 am Allotment of Rs 4000 crore for national housing program: Arun Jaitley
11: 40 am Urban Metro projects to be encouraged in Lucknow, Kanpur: Arun Jaitley
11: 38 am Markets in red as Finance Minister Arun Jaitley announces his budget proposal.
11: 35 am Allotment of Rs 100 crore for virtual classrooms for cultivating online knowledge/education.
11:32 am Allotment of Rs 14,389 crore for village roads and Rs 3,600 crore for drinking water programmes nationwide: Arun Jaitley
11:30 am Allotment of Rs 200 crore for power transmission and Rs 500 crore for water supply in Delhi: Arun Jaitley
11: 29 am Beti bachao-beti padhao yojna allotted Rs 100 crore, school curriculum on gender mainstreaming: Arun Jaitley
11:28 am Total household sanitation by 2019, some currency to be printed for disabled persons, Rs 150 crore for safety of women scheme: Arun Jaitley
11:27 am Minimum pension of Rs 1000 to all subscribers of EP scheme to meet the expenditure: Arun Jaitley
11:24am No change in retrospective taxes, Govt to allocate Rs 1,000 crore for PM Irrigation Scheme: Arun Jaitley
11:23 am Sardar Patel stands as a unity of statue and 200 crore has been allotted for the Statue of Unity in Gujarat: Arun Jaitley
11: 22 am Government to sell its stake in PSU banks, Government to think on additional autonomy to banks: Arun Jaitley
11:21 am Kisan Vikas Patra to be reintroduced for planned and unplanned savings: Arun Jaitley
11: 20 am Visa on arrivals to be promoted to boost tourism, PSU to invest 2.5 lakh crore, GST will be brought in soon improving fuel/LPG subsidies: Arun Jaitley
11:19 am To sell shares in banks to retail investors, e-visas would be instituted in 9-phases in India: Arun Jaitley
11: 18 am FDI on insurance increases to 49 per cent from current 26 per cent: Arun Jaitley
11: 16 am Composite cap of FDI in insurance raised to 49 %: Finance Minister
11:15 am  Insurance among several segments needs expansion and FDI in defence increased to 49%: FM
11:13 am India needs a boost for job creation in manufacture sector and needs a push for job creation: Arun Jaitley
11:12 am No retrospective tax would be levied, FY 17 target for fiscal deficit at 3%: Arun Jaitley
11:11 am Two years of sub-five per cent growth has led to challenges to the economy: Arun Jaitley
 11:10 am Narendra Modi government to formulate new urea policy: Arun Jaitley
11:04 am It is a beginning of a journey of economic growth of 8-9%.
11:02 am Union Budget 2014 Live: People of India have voted for a change- Arun Jaitley
11:00 am Finance Minister Arun Jaitley presents Union Budget 2014 in the Parliament.
10:40 am Union Cabinet meeting ends after the Union Budget 2014 gets approved.
10: 35 am Cabinet meeting at Parliament ahead of presentation of Union Budget 2014 by Finance Minister Arun Jaitley.
10:15 am Budget Papers arrive at the Parliament which will be sent to MPs.
9:41: am Arun Jaitley leaves for the North Block.
9:15: am Markets open on a positive note with Sensex opening at 25,528 points with a rise of 83 points while Nifty opened 76 points higher at 7,600 points.
The
Narendra Modi
-led government presents their first
Union Budget
today amidst promises of tall order especially to reverse the negativity that has seeped into the economy in the past decade of bad governance. Pressing issues like reforms in the taxable income, deficit clearance and the huddle for FDI.
Narendra Modi won by a landslide victory in May 2014 as he based his campaign on growth and improve employment option for the millions who join and become eligible for a job each year. Unlike the previous governments who tried to sugarcoat the blows to the exchequer but Narendra Modi has taken the realistic stand and asked people to beware of the 'bitter medicine' as the economy needs to healed and brought back on track.
The Finance Minister, Arun Jaitley, has promised that the Union Budget 2014 will ensure valiant decisions over populist decisions that seek to please people but always end up hurting them when it comes to expenditure.
Arun Jaitley presents the Union Budget 2014 in the Parliament.
Will the Union Budget 2014 be wise and realistic or reckless with more than the new government can cope with? Stay tuned with us as we bring the live updates from Union Budget 2014.
Arun Jaitley will present the Union Budget 2014 at 11 am today. Watch the finance minister's Budget Speech Live here.